About Maxx Studio Salon and Spa
Maxx Studio Salon & Spa History

Suna Darkanat started Maxx Studio Salon and Spa in Summerville, South Carolina after 3 decades of training and traveling across the country. Her vision can be clearly seen throughout our amazing lowcountry location offering hair and nail salon services. From the minute you walk in, our salon will make you feel as though you are in a New York City salon. From our open layout and comfortable waiting area, with provided beverages, to our private service rooms we protect your privacy while you get pampered and styled.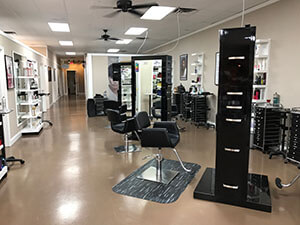 Suna Darkanat – Owner & Master Stylist
"I see the beauty potential before the first cut is ever done."
Kaitlyn Sullivan – Stylist
"A true style can only be created from incredible passion about fashion."
Sibel Rea – Makeup Artist
"Through makeup, I can make your inner beauty become outer beauty."
Maurice Ferguson – Stylist
"When you want a trim, a cut, or even a style, you need to know your stylist or barber is going to treat you well."
Micheal Hope – Esthetician
"Style and beauty is more about education than anything. With education I can make anyone look and feel amazing."
Domynique Oden – Stylist
"I haven't come across a person that hasn't walked away with a smile yet.
Chelsea Union – Stylist
"A great salon experience starts with the best of conversation."
Kim Deshong – Stylist
"A little bit of crazy, a glass of wine, and some excitement creates a look that can't be matched."
Bryce Freshwater- Stylist
"My passion is making you comfortable while helping you look marvelous. My style is helping you to relax."
Keith Jeffcoat – Stylist
"Red, blonde, brown, perm, highlights, or even the craziest requests is just another exciting opportunity."
Leslie Crowson – Receptionist
"The best trips to the salon start with the warming touch at the front door."